About
Us
The St Thomas Catholic Academies Trust is committed to excellence in all that it does. 

The Trust provides the framework through which schools can offer powerful support to one another, working in solidarity to realise the potential in each child and each member of staff we have the privilege to serve.  We have an unshakeable belief that every child is unique, created in the image of Our Lord, Jesus Christ, and each child, with the right love and support, will thrive and succeed.


Our Mission:
"The glory of God is a human being fully alive!"
Our Vision:
Human flourishing and the uniqueness of every individual as a child of God is at the heart of our Catholic educational enterprise. In this context, a human being fully alive is one who is open to faith – to love – to joy – and to learning. They are daily becoming the person God created them to be and they are ready to delight in their God-given gifts, and to use them in the service of the Common Good.
Our Six Strategic Aims:
Our Catholicity is at the core of everything we do.
Every child will receive an excellent education
We will recruit, develop and retain the best people (click here for more information about careers and training).
We will support our schools by providing exceptional central services.
We are financially robust and provide value for money.
We will maintain high levels of service whilst expanding.
Our Strategic Executive Leader: Joe Richardson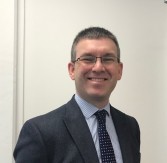 The Executive Leader of our Trust is Joe Richardson.  With over 25 years' experience in Catholic Education and 15 years as a senior leader in our Diocesan schools, Joe is ideally placed to lead the Trust through its formation and subsequent growth.

Joe has enjoyed considerable success as Headteacher and Trust leader:

- He has supported schools in very difficult circumstances, securing rapid improvement where required.
- He served as Headteacher of an Outstanding school that went on to secure Teaching School status.
- He spent over 10 years as a leader (including 5 years as Headteacher) at one of the Trust schools - Cardinal Newman School, Luton.  An Outstanding Catholic School, it has maintained a fine reputation for quality education for the last 50 years.
- Over the last 5 years he combined his role as Headteacher at Cardinal Newman with the position of CEO of the St Alban Catholic Academies Trust.  During that time the Trust was formed, grew to 5 schools and more recently merged with the St Peter's Catholic Academies Trust to form the new Trust we are today.
Speaking about his role Joe commented: 
 "When I look back on my career as a school leader, I would say that my greatest achievement lies in the work to support a school in very difficult circumstances.  We transformed outcomes for children and transformed the culture of a school that was in a very difficult place – you cannot achieve the first without the second.  As Executive Leader of our Trust I know that we can achieve this same transformation across our family of schools wherever it is required, building on the strengths that lie at the heart of our community."
Our Executive School Improvement Advisor: Ciran Stapleton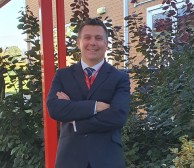 The Executive School Improvement Advisor of our Trust is Ciran Stapleton.  With 28 years' experience in Catholic Education, Ciran is well placed to co-ordinate school improvement across the Trust at its early stages of formation and subsequent growth.

Ciran has enjoyed considerable success as Headteacher and Trust leader:
- He served as Head of School of an Outstanding school in Surrey before going on to take the Headship at St Joseph's Catholic High School, Slough in 2013 which was then in danger of closure but now holds Outstanding status. During his time there he also undertook significant school improvement at Thomas Becket School in Northampton 2017-2019.
- From 2016-2020 he combined his role as Headteacher at St Joseph's with that of founder CEO of the St Peter Catholic Academy Trust before the Trust combined with the St Albans Catholic Trust to form the new St Thomas Catholic Trust.
Speaking about his role Ciran commented: 
"It's a privilege to serve the young people of our Diocese who are our future hope and leaders for a transformation of our society into a place where Christ's love is present to all."
Strategic Leader for Inclusion: Michelle Chappell
Through this crucial role, Michelle will provide support to all leaders across the Trust working across Safeguarding, SEND, Pupil Premium and Equalities.
Speaking about her role: "I am delighted to have the opportunity to continue and extend my service from the last few years as the Trust's Strategic Safeguarding Lead.  As an ex-SENDCO, Designated Safeguarding Lead, Inclusion Manager and Pupil Premium Co Ordinator I am hoping to use my experience as a member of the Senior Leadership Team at Cardinal Newman in Luton, and 22 years in Catholic Education, to ensure that every student is given the best possible chance of success by attending an excellent and truly inclusive school.
I am passionate about ensuring all students have equal access to the best quality education and pastoral support we can provide, so that all staff and students are able to thrive and use their God-given talents to the full.
Many of those who will have worked with me in the past will know that I have particularly enjoyed working with and developing links across the phases to ensure a smooth transition for our students with SEND and I have welcomed the increased opportunities for liaison afforded by our Multi Academy Trust.  I am looking forward to seeing and working with you all more closely in this new role."
Strategic Leader for Training and ITT: Al Nicol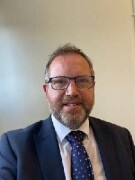 One of the key challenges facing all Trusts is to create a quality supply-line of excellent staff at all levels of the organisation. Al will ensure our primary and secondary schools have the teachers they need through internships, teacher training, Early Career Framework, and leadership CPD. Al brings with him extensive links to the highly regarded TeachSoutheast organisation that will allow us to build on our partnership through the Early Career Framework.
Speaking of his role: "I feel delighted and privileged to be granted the opportunity to extend the work I started last September and have the chance to continue to work with so many positive and professional colleagues across the Trust. At this point in time, it's an exciting moment within the Trust's development, with many 'things' in the offing and I very much look forward to working with an even wider range of schools and colleagues as we explore our own Initial Teacher Training provision, the launch of the new NPQs along with developing more internally provided CPD."
Strategic Leader for School Improvement: Mark McLaughlin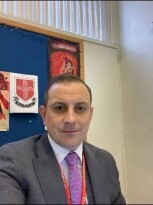 Mark has demonstrated across several settings that he has the ability to identify the barriers to school improvement and support schools to implement the strategies that will really make a difference. He will be joined by a deputy who is a primary specialist in due course.

Speaking of his role: "I am delighted to have the opportunity to work with so many of you over years ahead in this new role supporting in our Trust schools. Having worked in Catholic education for 15 years I have served in schools in a range of contexts, leading in schools that were in 'special measures' to 'outstanding,' in roles from classroom teacher to headship, I really know how powerful and transformative Catholic education can be for the children we serve and I look forward to helping you all in your mission in the future."
Strategic Leader for Chaplaincy and RE: Mark Holdsworth
As a seasoned Section 48 inspector, Mark is an expert in developing RE, Chaplaincy and Catholic Life in schools.  Mark will work directly with schools to train and develop leaders in aspects of school life that connect directly with our mission.  This will come in the form of training for groups of leaders or more direct one-to-one support for schools where this is required or requested.  
Mark's commitment to mission is reflected in the work of Our Lady's in Chesham Bois.  It is a wonderful Catholic school where the mission to Build the Kingdom of God is woven expertly throughout the fabric of the school.